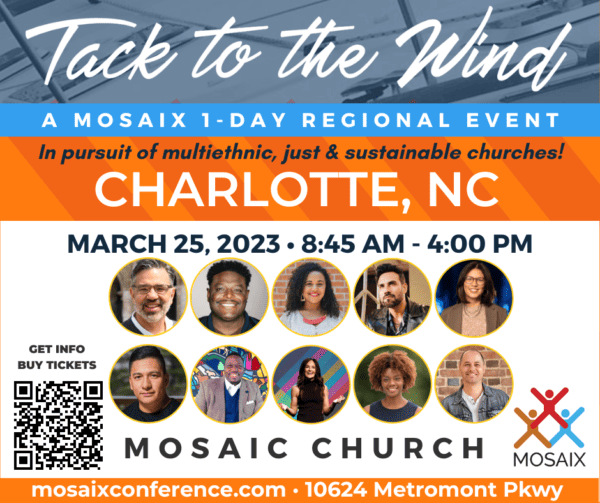 Thankful for our sponsors!
In sailing, tacking is a maneuver used by mariners to keep a ship moving when winds have shifted from back to front and it's otherwise unable to make forward progress. Similarly, cultural winds have shifted in our lifetime and for all intent and purposes our boat, the collective witness of the church, seems dead in the water. Why? In part because church sails remain fixed for past winds while ministry leaders wait in hope they'll soon again shift. But they won't. Those days are gone. We are no longer sailing with the wind at our backs... Cultural winds are against us. In order to advance the gospel, the local church, and the kingdom of God in this day and age as well as in years to come we need now to swing the boom. Indeed, we must tack to the wind. And that's what this event is all about.
Plenary I (8:45a-10:25a)
Worship; three 8-minute talks and two 16-minute talks
Workshops A (10:45a-11:50a)
Choose from 5 to attend
Lunch (11:50a-1:15p)
With opportunities for networking
Workshops B (1:15p-2:20p)
Choose from 5 to attend
Plenary II (2:35p-4:00p)
Worship; three 8-minute talks and two 16-minute talks
PLENARY I (Morning)
PLENARY II (Afternoon)
Preaching to Build a Multiethnic Church (

Auditorium

)
Derwin Gray


Join Pastor Derwin to consider the

why, how, and what of preaching and more specifically leveraging the pulpit to build a multiethnic church. The discussion will focus on how the word of God can and should be proclaimed to an increasingly diverse society in an exegetically sound, cross-culturally competent, and practically relevant way.



Partnering with Latino Churches (

Room 1

)


Angel Jordan


Representing nearly one out of every six adults, and with four out of five identifying as Christians, Latinos are not only influencing America today but forging the future of Christianity. In this workshop, Angel will highlight their growing impact and discuss how non-Latino churches today can engage and partner with them.
Using Education as an Invitation to Transformation & Liberation (

Room 2

)


Lucretia Berry




In a society influenced by historical racial hierarchies and social schisms, multiethnic, just and sustainable churches don't just happen. Instead, they have to be intentionally cultivated. A former college professor of education, Lucretia shares how care-fully designed, learning-centered education inspires and equips us to foster justice and belonging for all.

Discover How Innovative Ministry Leaders Are Reaching The Culture (Room 3)
Matt Smay
Innovation is happening all around us. Matt will unpack these learnings and discuss how the "Big C" Church is winning through its collective effort in geographic areas. You will see how faith campaigns like He Gets Us are helping churches reach into places they haven't been able to in the past! Learn new approaches to attract, get, keep, grow, and multiply people in your ministry.
Afternoon (1:15p-2:20p)
Discipling NextGen Africans in the Diaspora (

Auditorium

)


Mekdes Haddis


Christian African Immigrants face a unique challenge in finding the support for their churches as they navigate the intersection of being Black and Immigrant while raising the next generation of church leaders with minimal resources. Join Mekdes as she takes us on a journey to understand the complexities and gaps that hinder first generation parents and churches from effectively discipling their kids and how the American Church can fill the gap.
Culturally Intelligent Multipliers (

Room 1

)


Santes Beatty


Pursuit of cross-cultural intelligence and competence is today a non-negotiable for ministry leaders attempting to reach an increasingly diverse and cynical society.  How can we leverage cultural intelligence to make disciples and multiply? In this session, Santes will share time-tested insights and practical tools to help you move people from conversations to transformative engagement in your own organizational context.

Non-Negotiables of Multiethnic Ministries

 (

Room 2

)


Kristin Mockler Young

&

Naeem Fazal


There are 4 non-negotiables that ever multiethnic ministry needs to thrive.

Join Kristin & Naeem as they help you uncover what they are and why they're necessary for creating a mulitethnic, just and sustainable church.

Neighborliness: A Framework for Community Engagement (Room 3)
David Docusen
Neighborliness is the embodiment of Jesus to the world around you. This session will explore the instincts and behaviors of Jesus to cross lines of race and economics to engage your community. A practical framework for churches and organizations will be taught that has been proven to help families break cycles of generational poverty and move toward naturally flourishing communities.